Medical, Surgical, Obstetric and Radiology specialties have progressed in leaps and bounds in the last decade. With the advent of highly technical investigative and therapeutic tools medical, surgical, radiological procedures have become highly specific and precise resulting in reduced morbidity and mortality. The modem doctor provides effective care only by using these tools. Effective training is required before a doctor can use these tools. Among the three major domains of learning for a doctor, Viz. Knowledge, Skills and ethics, knowledge and ethics are learnt and imbibed by various effective teaching/learning methods with existing facilities.
Learning skills & competencies, however, is a major challenge. It is a challenge because
• Opportunities for learning and chances of repeating performances on patients are limited
• Safety of patients during training is a concern
• Patient expectations are high, with a reluctance to let trainees do procedures.
• Refining the skills and acquiring competency on patients directly is a problem.
Hence, it is important to impart basic skills in the laboratory / Training Centre environment and then allow the reasonably trained student to hone his skills further, on a patient. Basic Medical, Surgical Obstetric & Radiological Skills Centre (BSC) would meet this requirement. This need has been realized for many years in western countries. Many countries mandate a formal certificate in Basic Skills before allowing students to take postgraduate examinations.
Beneficiaries:
1. MBBS STUDENTS
2. MD/MS STUDENTS
3. NURSING STUDENTS [Diploma, B.Sc and M.Sc]
4. OT & Anesthesia Technologists
5. PARA MEDICAL COURSE STUDENTS
[Any individual involved in patient care in most of the surgical /critical care will be benefitted.]
Postgraduates need advanced training in surgical skills including Laparoscopic surgical skills; Postgraduates from various surgical disciplines would need a common set medical, surgical, obstetric and radiological skills like clinical examination, dissection techniques, suturing, knot tying, laparoscopic skills, wound management skills, delivery, obstetric examination and maneuvers, Sonography, CT Scan, Lumbar puncture etc.
The term postgraduate would also encompass many 'medical' specialties undertaking invasive procedures like insertion of chest drains, pacemakers , liver biopsies etc.This centre functions as nodal centre for training not only our University students but is also planning to include students of other institutes as well in this academic year. With these priorities in mind this centre is proposed.
Goal:
A centre of excellence in learning basic and advanced skills so as to enable health care profession students to be competent in delivering the health care needs effectively to enable health care profession students to be competent in delivering the health care needs effectively.
Objectives:
1. To train and develop necessary clinical skills in medical undergraduate, post graduate students, paramedical students as per needs and competency statements of various courses.
2. To train and certify the learners and faculty necessary for conducting courses or establishing such centers elsewhere
3. To develop and act as a resource center for such activities and co ordinate between various sections for effective delivery.
4. To develop resources, materials and course curricula required for various courses
5. To train and certify the learners and faculty
6. To provide intellectual support for upcoming centers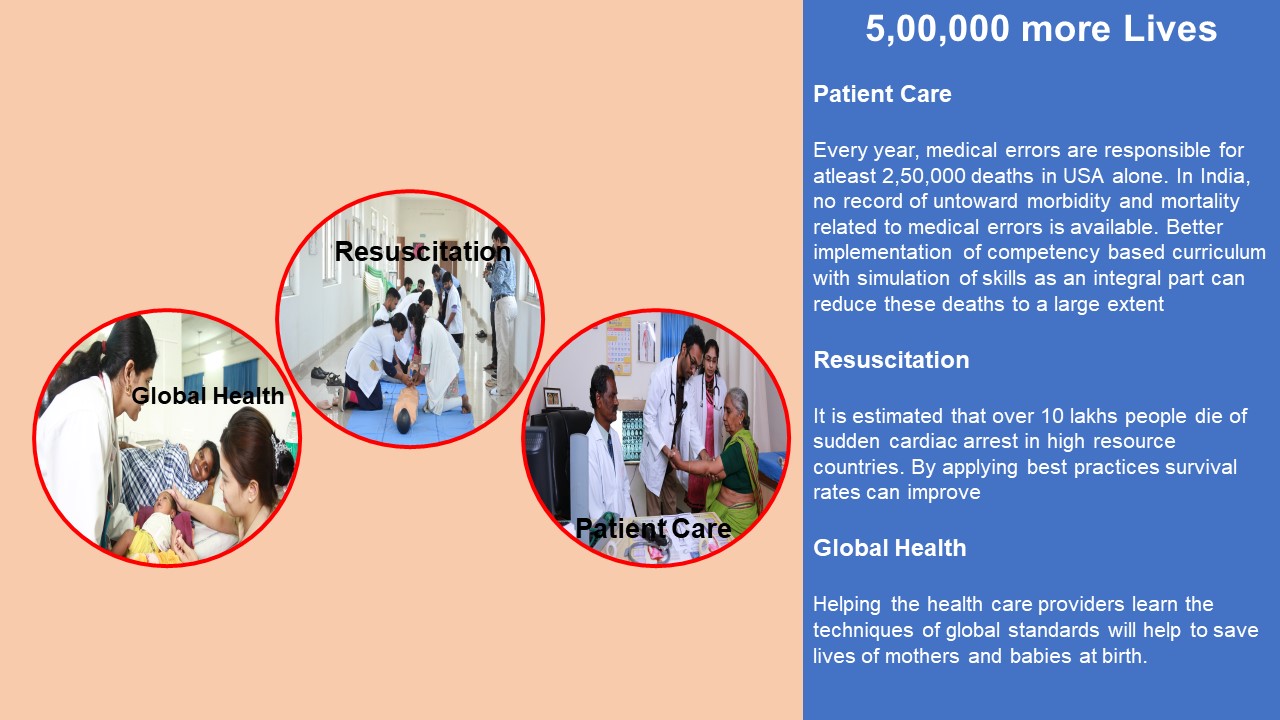 Programs in skills training and simulation-based education are necessary to avert unnecessary medical errors and to offer quality health care services to people. The establishment of skills laboratory is a step towards achieving the goal of Indian Medical Graduate (IMG) who is a well-trained skilful professional.
In other words, the simulation and training solutions will enable the learners and provide opportunity for hands-on deliberate practice, development of decision-making skills, and improved communication and teamwork.
SKILLS TRAINING CENTRE:
The skills development centres will consist of:
• A simulation laboratory for developing basic clinical, procedural and surgical skills.
• A laparoscopic training facility for acquiring basic skills in laparoscopy
• The facility will be also to open to undergraduate and postgraduate students, interns and residents, who can come for skills training accompanied by their teachers.
The courses should be tailored to meet the requirement for various levels of competence and variety of skills.
LEVEL 1(Undergraduate) – Basic Surgical Skills, Basic Life Support Skills, Certifiable Procedural Skills, Normal Labour Management and Conduct of Delivery. These should be a mandatory part of clinical training of all undergraduates. Level 1 training facility is mandatory for all medical colleges.
As per National Medical Commission, the detailed Procedural skills for MBBS graduate are as follows:
A Comprehensive list of skills recommended as desirable for Bachelor of Medicine and Bachelor of Surgery (MBBS) – Indian Medical Graduate
Specialty
Procedure
General Medicine

•  Venipuncture (I)

•  Intramuscular injection(I)

•  Intradermal injection (D)

•  Subcutaneous injection(I)

•  Intra Venous (IV) injection (I)

•  Setting up IV infusion and calculating drip rate (I)

•  Blood transfusion (O)

•  Urinary catheterization (D)

•  Basic life support (D)

•  Oxygen therapy (I)

•  Aerosol therapy / nebulization (I)

•  Ryle's tube insertion (D)

•  Lumbar puncture (O)

•  Pleural and ascitic aspiration (O)

•  Cardiac resuscitation (D)

•  Peripheral blood smear interpretation (I)

•  Bedside urine analysis (D)

General Surgery

•  Basic suturing (I)

•  Basic wound care (I)

•  Basic bandaging (I)

•  Incision and drainage of superficial abscess (I)

•  Early management of trauma (I) and trauma life support (D)

Orthopaedics

•  Application of basic splints and slings (I)

•  Basic fracture and dislocation management (O)

•  Compression bandage (I)

Gynecology

•  Per Speculum (PS) and Per Vaginal (PV) examination (I)

•  Visual Inspection of Cervix with Acetic Acid (VIA) (O)

•  Pap Smear sample collection &  interpretation (I)

•  Intra- Uterine Contraceptive Device (IUCD) insertion & removal (I)

Obstetrics

•  Obstetric examination (I)

•  Episiotomy (I)

•  Normal labor and delivery (including partogram) (I)

Paediatrics

•  Neonatal resuscitation (D)

•  Setting up Pediatric IV infusion and calculating drip rate (I)

•  Setting up Pediatric Intraosseous line (O)

Forensic Medicine

•  Documentation and certification of trauma (I)

•  Diagnosis and certification of death (D)

•  Legal documentation related to emergency cases (D)

•  Certification of medical-legal cases e.g. Age estimation, sexual assault etc. (D)

•  Establishing communication in medico-legal cases with police, public health authorities, other concerned departments, etc (D)

Otorhinolaryngology

•  Anterior nasal packing (D)

•  Otoscopy (I)

Ophthalmology

•  Visual acuity testing (I)

•  Digital tonometry (D)

•  Indirect ophthalmoscopy (O)

•  Epilation (O)

•  Eye irrigation (I)

•  Instillation of eye medication (I)

•  Ocular bandaging (I)

Dermatology

•  Slit skin smear for leprosy (O)

•  Skin biopsy (O)

•  Gram's stained smear interpretation(I)

•  KOH examination of scrapings for fungus (D)

•  Dark ground illumination (O)

•  Tissue smear (O)

•  Cautery – Chemical and electrical (O)

I-  Independently performed on patients,

O-  Observed in patients or on simulations,

D- Demonstration on patients or simulations and performance under supervision in patients

Certification of Skills:  Any faculty member of concerned department  can  certify  skills.  For  common procedures, the certifying faculty may be decided locally.
LEVEL 2 (Postgraduate) – Advanced Life Support and Refresher Level 1 Courses, Basic Laparoscopic Skills Course, Neonatal and Paediatric Resuscitation Skills. Level 2 skills training centres are desired in each medical college; however if there are financial constraints, these could be conducted in collaboration with regional centres.
LEVEL 3 (Additional postgraduate) These will be available for multi-institutional use. Course will include Microsurgical Skills Courses, Advanced Laparoacopic Skills Courses and Human Patient Simulators for Anaesthesia, Pharmacology, Physiology and other physiology competencies. Level 3 is to be offered only in regional skill training centres and above, mainly because of its cost-effectiveness. Interns should have a mandatory Level I Certification before they get their Licensure degree.
Area Requirements for Skill Laboratory: 800 sq. m for 250 undergraduate annual intake institutions.
1. Four Rooms of 20 X 10 feet size for standardised patients. These rooms are for assessing communication skills, clinical signs demonstration, clinical examination of respiratory, cardiovascular, peripheral & central nervous systems, visual acuity testing, Digital tonometry, indirect ophthalmoscopy, eye irrigation, gastrointestinal & hepatobiliary system clinical examination. All these rooms are adequately ventilated, illuminated and have audio-video recording facility.
2. One room for demonstration of skills to small groups of 20 X 30 feet size
3. One area of 50 X 30 feet specifically for debriefing. This area/ hall contains AV equipment and video playback facility.
4. One room (10 X 10 feet size) for the Coordinator
5. One room ( 20 X 15 feet size) for the supporting staff of AV technician, maintenance technician and clerical staff
6. Storage space for the storage of mannequins and other equipment (of 30 X 20 feet size)
7. Specialty Rooms (of size 20 X 15 feet size) for Obstetrics, Gynaecology, Orthopaedics, ENT & Ophthalmology, Dermatology, and General Surgery). A total of 7 rooms with AV recording facility.
8. Another room of 30 X 20 size for General Medicine.
9. The list of equipment in these rooms are described as below.