CENTRAL CLINICAL LABORATORY, NARAYANA MEDICAL COLLEGE & HOSPITAL
---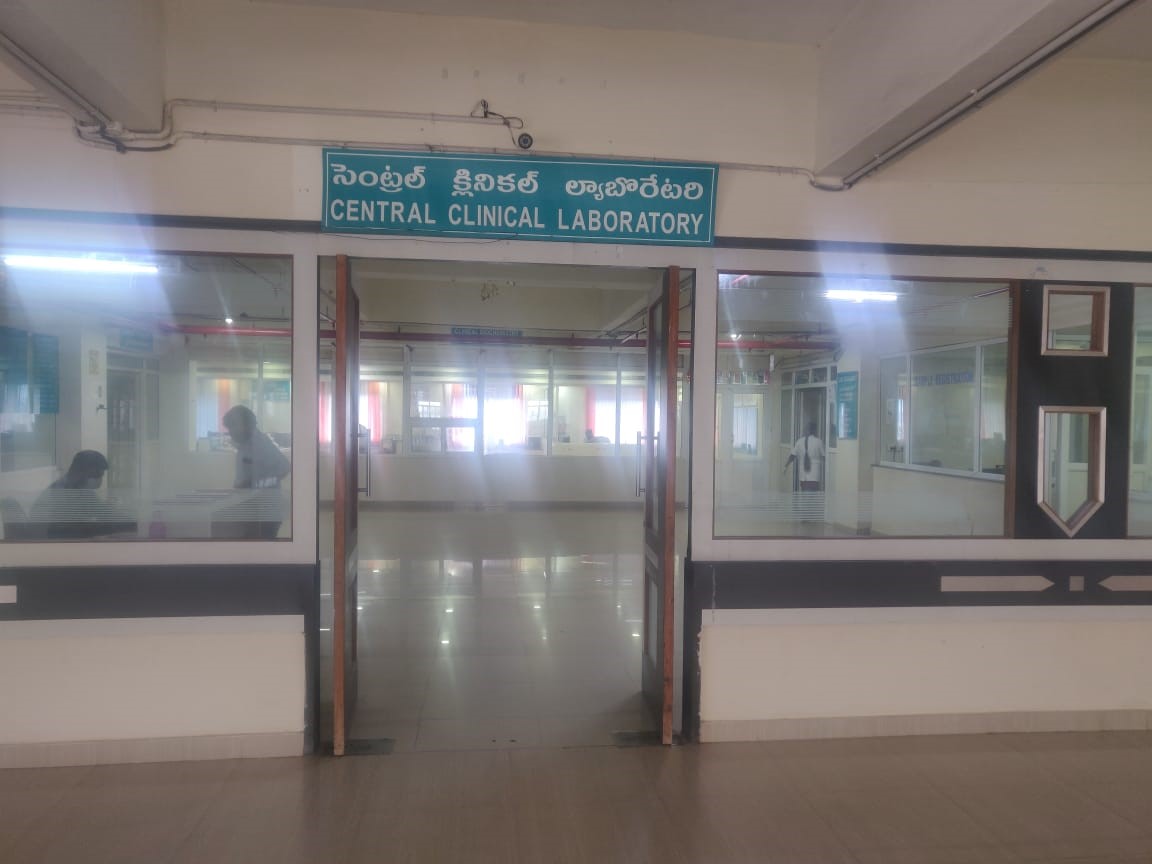 The Central Clinical Laboratory (built area; 40,000 Sq.ft) – is operational since 1999 in the seventh floor of Narayana Super Specialty Hospital. It has three major divisions viz., Biochemistry, Microbiology and Pathology, offering diagnostic services (24/7/365 days') to patients and research services to students and faculties of Narayana Medical and allied colleges, as well to other institutions. Nearly 100 Laboratory professionals including – Consultants (Physicians), Scientists, Lab Technicians, Data entry operators and Sample Transport Messengers are involved in day to day services. The lab informatics are managed using the Laboratory Information Management Systems (LIMS) software. Quality Control (QC) procedures are strictly followed in all its departments to ensure error free quality reports. The Central Lab has the following dedicated patient service areas such as – patient registration, blood collection room (accommodates 6 patients in a given time), urine and stool collection rooms.
In addition to its diagnostic services; lab supports academic activities such as teaching the principles and standard operating procedures (SOP) of a clinical lab to the medical and para-medical under-graduates. They were also given hands on experience on instrument operation, data-collection and –interpretation. Further it facilitates the post-graduate research by allowing them to use its sophisticated instruments for sample analysis and data collection. Faculty members from this institution and elsewhere also uses the facility to obtain data for their research projects.
Divisions of Central Clinical Laboratory
Front office/Reception
Sample Collection/Phlebotomy section
Clinical Biochemistry
Clinical Pathology
Clinical Microbiology
Data entry section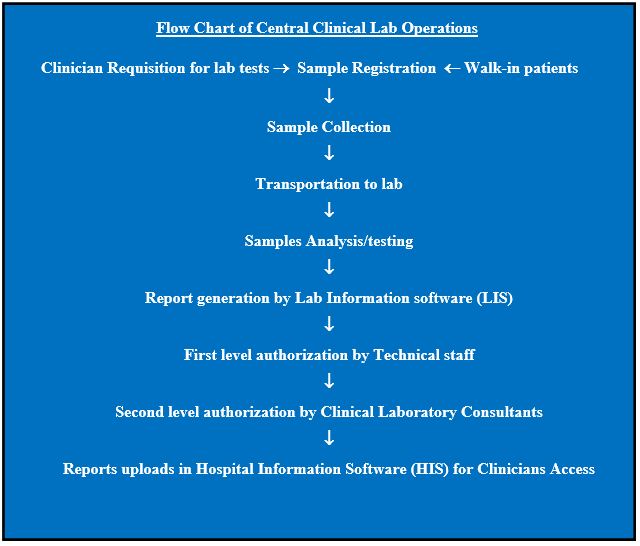 Department of Clinical Biochemistry
The Department of Clinical Biochemistry functions round the clock from its time of inception (1999) to offer a quality diagnostic services to our patients and also supports student and faculty research activities. It's skilled lab technicians works tirelessly to cover more than 60% load of the entire clinical lab. To be in competent with ever upgrading diagnostic technologies lab staff were trained periodically to operate wide range of equipment present in the facility such as Automated Immunoassays, Automated chemistry analyzers, HPLC, Turbidimeter, Electrolytes analyzers and Cardiac markers. Nearly 200 different types of investigations were carried out on daily basis in different division of Clinical Biochemistry – namely –
Emergency Investigation Division – Diagnostic tests for critical patients were done 24 x 7
Routine Chemistry Division – Routine biochemical tests were done for both In- & Out- patients; the division serves 24 h, 7 days in a week throughout the year.
Immunoassay Division – This division operates 12 h day time each day in a year to estimate endocrine and metabolic hormones in patient's samples. As well qualitatively and quantitatively measures tumor markers, vitamins and other markers (IL-6, CK-MB etc).
The chemicals and reagents required for the diagnosis were stored in the walk-in-cold room, deep freezers (-20 & -80 deg C) and refrigerators.
The department follows strict internal and external quality control measures to provide error-free data. It participates in the External Quality Assessment Scheme of the Association of Clinical Biochemists of India (ACBI) conducted through Christian Medical College, Vellore, Tamil Nadu.
Major Equipment List
HUMASTAR 600- I (Fully Automated Biochemistry Analyzer)
HUMASTAR 600-II (Fully Automated Biochemistry Analyzer)
ACCESS-2 –I (Fully Automated Hormones Analyzer /Immunoassay System)
ACCESS-2 –II (Fully Automated Hormones Analyzer /Immunoassay System)
D-10 (HPLC) – Automated HbA1C Analyzer
JOKOH (Electrolyte analyzer) – 2 Nos
HUMALYTE (Electrolyte analyzer)
Abbott- Automated Integrated Analyzer for Chemistry & Immuno-assay
CENTRIFUGE-Eppendorf-I
CENTRIFUGE-Eppendorf – II
CENTRIFUGE-Eppendorf –III
MINIVIDAS- Immuno-Fluorescence Analyzer
DEEP FREEZER 20 C
REFRIGERATOR-I
REFRIGERATOR-II
REFRIGERATOR-III
WALK-IN COLD ROOM (2 – 4 0 C)
SEMIAUTOMATED TURBIDOMETER
HUMALYZER 3000 (Semi-automated chemistry analyzer)
I-Chrome-CARDIAC MARKER READER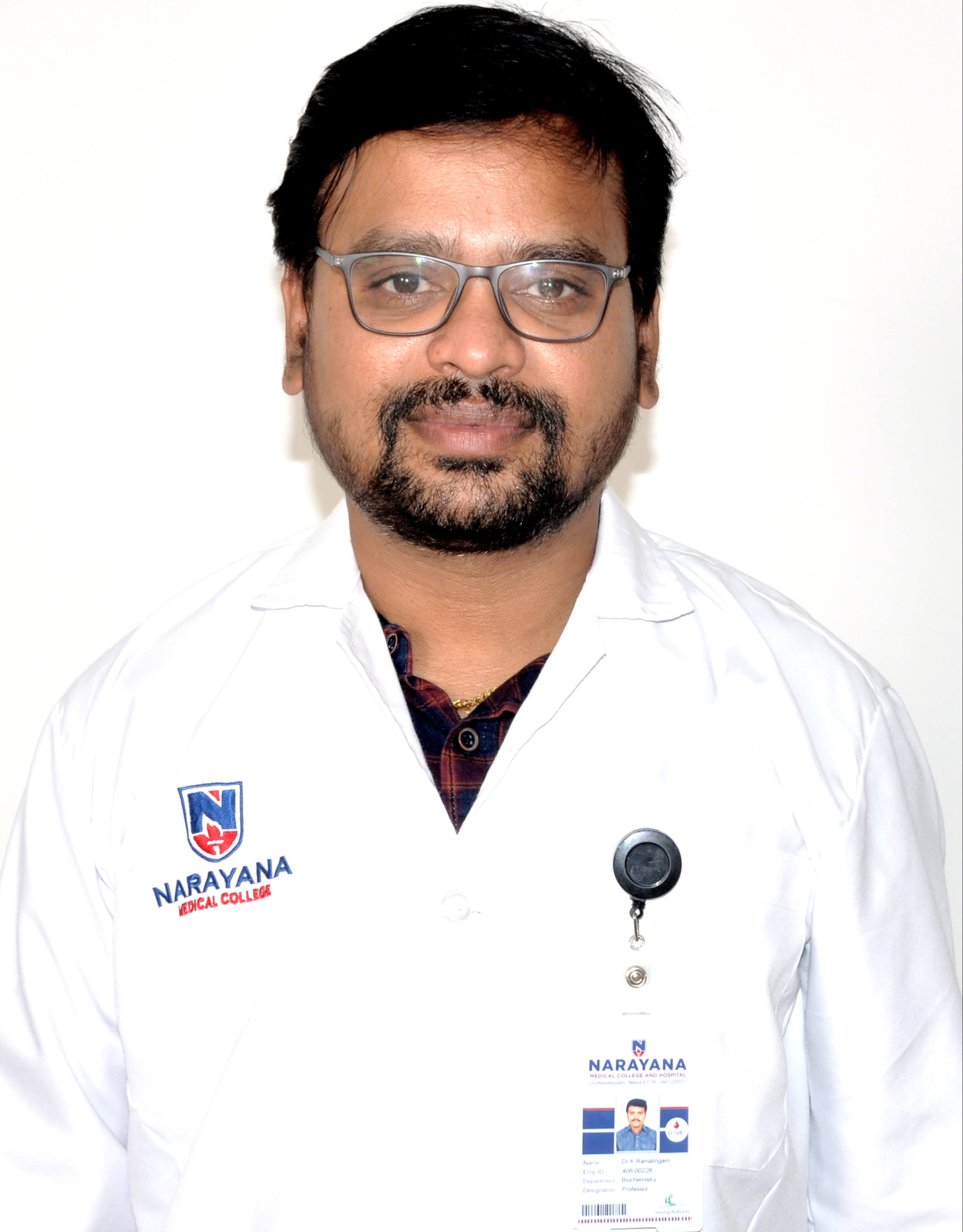 Dr. Ramalingam Krishnan, Professor
Department of Biochemistry
&
Central Clinical Lab Coordinator
Narayana Medical College and Hospital
Off: 0861-2317968, ext; 2387; Mobile: +919490166078
Email : ramclinbio@gmail.com
Microbiology Department
Major Objectives
To develop state of art facility, in terms of quality infrastructure & trained manpower which enables the students of various UG& PG courses to appreciate the basic etiology, Immuno-pathogenesis & diagnosis of common infectious diseases.
To deliver quality, timely, accurate diagnostic services to all the patients.
To create an environment for "Need Based Quality Research" among Faculty & Students"
Department of Microbiology of is a multidisciplinary unit consisting of various branches which includes Bacteriology, Virology, Mycology, Immunology, Serology, Parasitology Mycobacteriology and is working throughout the clock. The department is equipped with good diagnostic facilities to provide services for both in –patients & outpatients of both general & super specialty hospitals. Diagnostics are the main stay of the department & all the sections are equipped with necessary basic & sophisticated instruments. The lab facilities include state of the art Automated systems like "BAC T ALERT" to do blood culture with less turnaround time, ViteK2 Compact fully automated equipment for culture and sensitivity of various clinical samples received. All the serological tests will be done by using CLIA and ELISA methods. Every day we perform nearly 40-50 culture and sensitivity tests from various clinical specimens. Around 250 serological tests, 15-20 staining, 5-7 Parasitology and 2-3 mycology samples will be processed. Special serology tests like Leptospira Ig M, IgG and Dengue IgM and Ig G, ANA, ds DNA tests are also carried out. SOPs are being maintained for all the procedures and tests being performed. The laboratory reports are dispatched to the respective wards, OP clinics of both broad & super specialties every day in time. Well-equipped BSL2 lab with NABL accreditation and ICMR approval for COVID19 testing is functioning 9.00 AM -5.00 PM. Rapid Antigen tests for COVID19 are being done with TAT around one hour. RT PCR tests are being done with TAT around 24-30 hours. Well trained technical staff is available to give quality and reliable reports. Other vital activities of the department are 1. Environmental surveillance of hospital 2. OT surveillance 3. Sterility check for blood bags from blood bank and sterility controls 4. Training programmes in hospital Infection Control Practices 5. Research mentoring for UG s, STS projects for ICMR. 6. 24×7 emergency laboratory services.
Major Equipment List
ABBOTT-FULLY AUTOMATED IMMNUASSAY SYSTEM
BACTALERT-FULLY AUTOMATED BLOOD CULTURING SYSYTEM
VITEK-AUTOMATED BLOOD CULTURE DETECTION SYSYTEM
RADIOMETER-FULYATUMATED TRUBIDOMETER
THERMOCYCLER-RTPCR SYSTEM
BIOSAFETY CABINET-I
BIOSAFTEY CABINET-II
CLEAN AIR SYSYTEM
CHILLER- 700 C
CHILLER- 200 C
LAB REFRIGERATOR
ELISA-READER
WALK IN-COLD ROOM
CENTRIFUGE-1 (EPPENDORFR)
CENTRIFUGE -2 (REMI)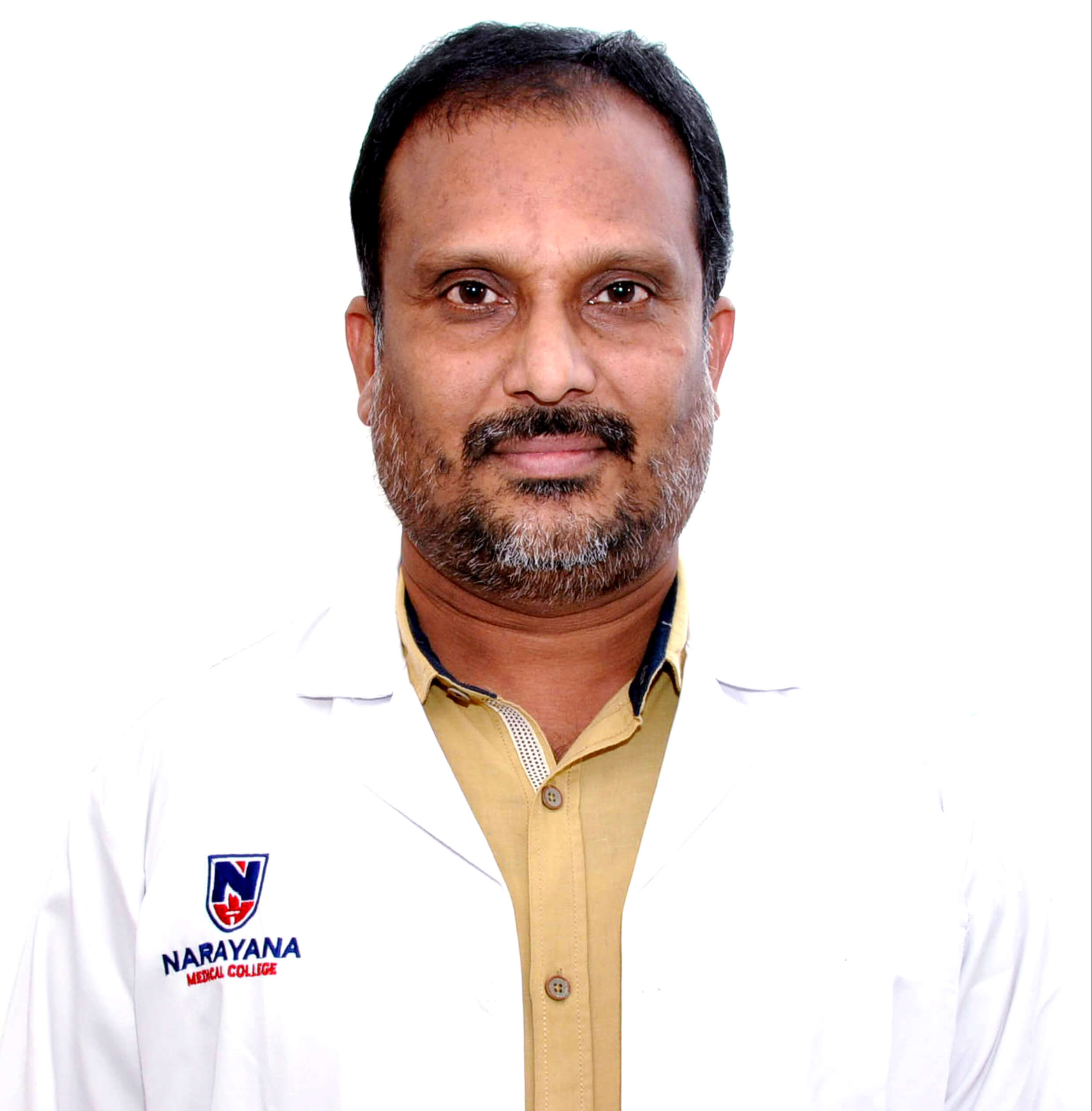 Dr. P. Sreenivasulu Reddy, MD
Professor & Head of the Department,
Department of Microbiology,
Narayana Medical College and Hospital
Phone – Office 2317963 Extn. 2572; Mobile 9848756474
E-mail – sr.palukuru@gmail.com
PATHOLOGY DEPARTMENT
Department of pathology has been started in 1999 and has been rendering diagnostic services since then. Department offers MD degree course since 2006. There are 4 MD seats every year.
Departmentof Pathology in central lab has spacious histopathology, hematology and clinical pathology laboratories. We maintain the quality of diagnostic services and were NABL accredited in 2016 for hematology and clinical pathology tests. Cytology unit for performing fine needle aspirations, examining fluid cytology and exfoliative cytology is present in OP block.
Everyday we perform 250 – 300 hematology tests, 150 – 200 clinical pathology tests and 50 – 60 coagulation assays in our lab.
We are equipped with automated analyzers to provide quick and accurate reports (turnaround time – 4 hours) to the patients attending general and super specialty hospitals. Lab services are rendered throughout the clock. Along the diagnostic services we provide training to postgraduate's students and BSc MLT students in handling the equipment's in central laboratory.
We have following equipment's in lab
CLINICAL PATHOLOGY MAJOR EQUIPMENTS LIST
HAEMATOLOGY ANALYZER (LH780-BECHMAN)
HAEMATOLOGY ANALYZER (5 DIFF-SYSMAX)-I
HAEMATOLOGY ANALYZER (5 DIFF-MINDRAY)-II
SYSMAX COAGULATION ANALYZER (SEMI AUTOMATED)
IL-COAGULATION ANALYZER (FULLY AUTOMATED)
CENTRIFUGE (EPPENDORF)-I
CENTRIFUGE (EPPENDORF)-II
AUTOMATED ESR ANALYSER
REFRIGERATOR-I
REFRIGERATOR-II
Histopathology laboratory is equipped with grossing station, automated microtome, embedding station, stainer and facilities like immunohistochemistry, frozen section, and special stains are available, which help in diagnostic accuracy.
Histopathology reports are given within one week of receiving the specimen.
Immunohistochemistry is useful in identifying the cell of origin of tumors and also in assessing prognosis. 30 immunohistochemistry markers are available in our laboratory. Post graduate students and faculty are utilizing these services for their research purpose also.
Special stains like Periodic Acid Schiff (PAS), Retic, Vangieson, Perl's stain, Zeil neelsen stain and Fite Faraco stain are available in our lab which helps in arriving at accurate diagnosis.
Undergraduate and Postgraduate students utilize these facilities for ICMR and various research projects.
Cryostat for frozen section is available which helps in giving the report (within 10 minutes) when the patient is on operation table. This helps the surgeon in deciding further treatment protocol for patient.
Histopathology slides are filed and are preserved for 10 years. Tissue blocks are also preserved.
Gross specimens are maintained for 6 months.
MAJOR EQUIPMENTS IN HISTOPATHOLOGY LABORATORY
AUTOMATIC TISSUE PROCESSOR (LEICA)
AUTOMATIC MICROTOME (MEDIMEAS)
AUTOMATIC EMBEDDING STATION (MEDIMEAS)
AUTOMATIC STAINER (MEDIMEAS)
CRYOSTAT (LEICA)
SLIDE FILING RACK (80,000 SLIDES CAPACITY) (LAB AID ULTRA)
MICROWAVE
REFRIGERATOR
Other activities
Departmental staff also participate in camps conducted for screening of cervical cancer and breast cancer in and around Nellore area.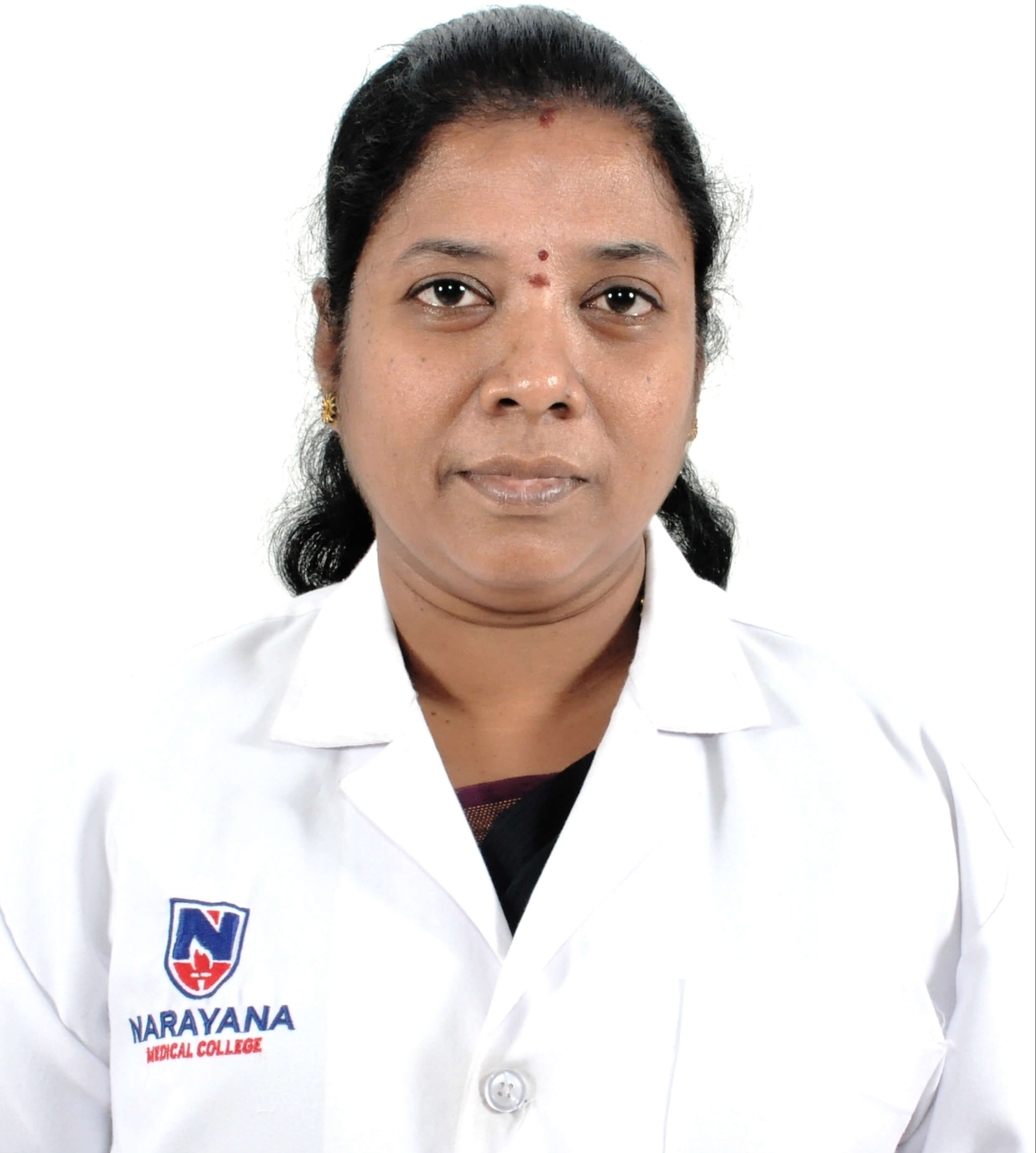 Dr. V. Shanthi, MD,
Professor and Head, Department of Pathology,
Narayana Medical college and Hospital.
PhoneOffice: 0861-2317968, Extn. 2613, 2371;
Mobile– 9849052179
E-mail – santhijp@gmail.com